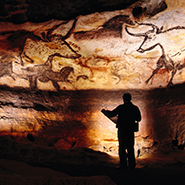 A Learning Curve lecture series with Dr Christopher Hartney
This compelling lecture series investigates the heart of creativity.
As civilisations throughout history have sought renewal and survival, the human capacity for creativity, innovation and problem-solving has remained the master key to recovery from crisis. The 'new' in all its forms, however, can be a powerful shock to both sensibility and stability. It is often seen as a zone of deviancy, constantly threatening to bring disorder and chaos.
Dr Christopher Hartney unveils what we know of the mechanisms of human creativity and how we can turn it to our advantage. Utilising his extensive knowledge of the civilisations of the past, he will retell the titanic battles between the constraint and unleashing of creativity,
The series explores how world views are renewed, and how and why art is vital to the process. It is designed for those fascinated with the operations of the human mind, and how it makes art, and will appeal equally to lovers of world history and to those who delight in the creative workings of the human mind. It will inspire creators and innovators who seek new insight into the vast range of ancient and modern practices of invention and renewal. Examples will range from the trance states of shamans and diviners, through to analytical creativity, the role of randomness, and how we solve problems. The study of civilisation meets the latest developments in the cognitive sciences in this enthralling story.